I believe a lot of people who are interested in this blog are unsure about how to leave a comment to a post, so I decided to dedicate a post to this. Don't be discouraged with the length of the post, which is due to trying to deal with each step that needs to be followed. (NB the colour-scheme of the blog will probably have changed by the time you read this.) I made the comments that I write about, and if you can't see them at the bottom of this post, just click the words "3 comments", or the title of this post. To go back to being able to see all posts instead of just one, go to the top of the page and click the blog title.
In order to leave a comment, click the link that says "0 comments" (or however many comments) at the bottom of the post. Your arrow-shaped cursor will turn into a hand with a pointing finger, indicating that when you click once on the left-hand button of your mouse you'll be taken somewhere else.

You'll be taken to the comment-box. Click inside the box in order to make it ready to accept your typing.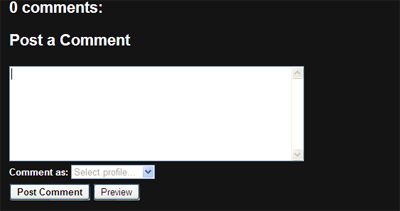 Type your comment.
If you have an account with a blogging service and are signed into it, than all you have to do now is to press the "post comment" button by moving your cursor on top of it and clicking once (left-hand button) with your mouse.
If you don't have an account, or wish to post under another identity, two courses of action are open to you.
Before you take either step, look at the writing underneath the comment-bos that says "post comment" - immediately to the right, there's a box with an arrow: click on the arrow, and a "menu" of different options will drop down.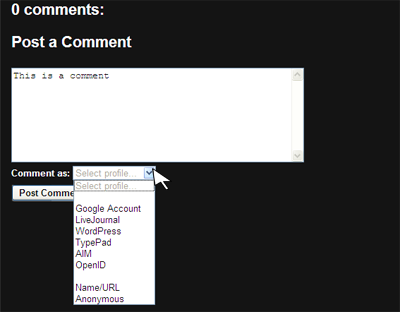 FIRST:
If you don't wish to leave any name at all, click the word "anonymous" at the bottom of the menu, then simply click the "Post Comment" button and your comment will be posted.
SECOND:
If you wish to leave a name, click the words "Name/URL" second from the bottom in the menu. You will be presented with a "form" with two "fields to fill in.
If you're not happy leaving your full name on a comment - and many people aren't - I would strongly advise leaving a pseudonym. But there's so many Mickey Mouses and Frank Sinatras on the web, please be creative! I filled in the top field with "Good Queen Bess", and my comment was published under this name.
Alternatively, if you're a little more web-savvy, you can put in the URL - the "address" of a site in the adress bar at the top of a site; always begins with "http://" - of another site that may be your own homepage, or a site that you'd like people to go to when they click the name you've left. I found a site about a children's book with the title
Good Queen Bess
, and inserted it in the URL field, then pressed "Post Comment". The text "Good Queen Bess" came up in a different colour than usual, indicating that it was a "hyperlink" that would take the user to another site when clicked.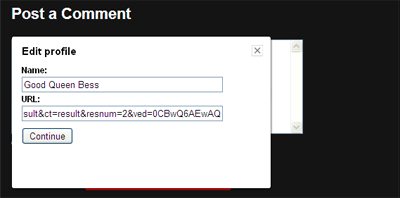 As I wrote at the top, if you can't see the comments for this post, click the words "3 comments" below, or else the title of this post.
I hope you enjoy reading and using this blog, and look forward to reading your comments!
Ed.