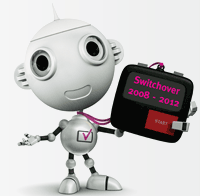 Viewers will need to retune their Freeview set top boxes and TVs (and Top Up TV and BT Vision boxes) on 31 August, 14 September and 23 November to keep watching the full range of digital channels you currently receive, unless the set top box has auto-retune. You will see captions on-screen reminding you of the need to retune on the run up to these dates. Guidance on re-tuning is available from
http://www.digitaluk.co.uk/
. If you are watching satellite or cable services, this does not affect you.
The set top boxes that the
Help Scheme
provided to eligible residents are auto retune so people shouldn't have any problems with them but, if they do require help and went through the Helpscheme they can call the Helpline on 0800 4085900 and someone will talk them through what they need to do over the phone or they will send someone out as part of the
aftercare they get. (There is no charge.)
For those people that were not eligible or are already watching digital television and need help retuning the best advice is to call Digital UK on 08456 505050 who can talk people through how to retune their TV over the phone and their number is charged at local rate.
Catherine Pawson
Lead Officer Planning and Projects
Trading Standards Department
Cambridgeshire County Council
PO Box 450, Cambridge City, CB23 6ZR