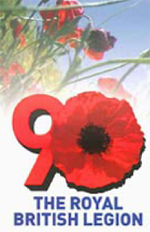 'During 1924 the list of all ex-servicemen who served in The Great War was finally completed and placed on sheep skin. It was ready to be installed in its final resting place - the Parish Church, where it still hangs. The work was carried out by Mr Cox and was on view prior to being hung in the church at the recent concert held by the British Legion (said the press report on November 28 1924)'.
Another entry in the newspaper, November 20 1925, stated 'A highly successful and well patronised social, organised by the Fulbourn branch of the British Legion, assisted by members of the Women's Institute, was held in the village hall, on Armistice Night. Mrs Peake arranged a competition and Mrs Hodgeman sold poppies. The hall was decorated with patriotic flags and emblems under the direction of Captain C.E. Townley.'
(The forementioned historical information is taken from a compilation of the branch's history which Don Crane (deceased), put together in 1981 and for which we are exceedingly grateful.)
Like us, the Fulbourn Women's Institute is also 90 years old this year so we are once again (as above), combining forces to have "Cream Teas and Strawberries", on The Manor Lawns, forming part of
The National Poppy Party weekend
. The
Peterborough Highland Pipe Band
will also be in attendance, so be su
re to put this date in your diary.
Dont forget the production of
'Eyes Front' with Isla St Clair Sat 12th March in The Townley Hall
– tickets £10 from
Twelve
AND GOING FAST!
Gerald Norden
Secretary
Fulbourn & Teversham Branch
Royal British Legion
Interested? Email fulbourn_mill@yahoo.com and I'll pass the enquiry on! - Ed.